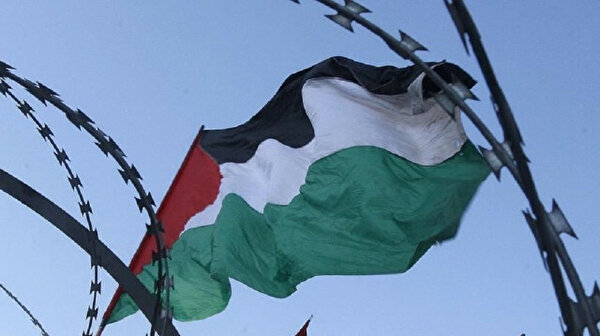 Israel's ID card policy deprives Palestinian couple of stable life
Majdoleen Hassouneh stands on a hill in the village of Beit Imrin in the northwest of the Palestinian city of Nablus, as she did as a child, looks west towards the Mediterranean coast, which she has been barred from visiting since birth because she is from the West Bank with a green ID card.
Today, she also looks beyond the barbed wire, but this time not with the curiosity of a child who wonders about the sea. Instead, she turns to her house, in which she has not been able to settle so far.
Over three years ago, Majdoleen started working for Turkish public broadcaster TRT, where she met Mohammad Khairy, who became her husband after a long love affair that still faces serious challenges due to Israeli occupation policies and restrictions.
Mohammad is from the town of Baqa al-Gharbiyye, located south of the northern city of Haifa, and is forced to carry a blue Israeli identity and nationality card like other Palestinians who live on the land occupied in 1948. .
In early 2019, Mohammad's family visited Majdoleen's family home in Nablus. Mohammad and Majdoleen joined them via Skype to announce their engagement.
"We announced our engagement from Istanbul because it was not safe for me to return to Palestine. I will be exposed to many threats and arrested for my activities (writing about Palestinian detainees held by the Israeli authorities) if I return, "Majdoleen told Anadolu news agency.
After several months, however, they decided to return to Palestine for two weeks to celebrate their engagement with their families.
On August 18, 2019, they went to the Nablus court to document their marriage contract, then left for Istanbul.
Due to differences in identity status, Mohammad passes through Tel Aviv's Ben Gurion Airport, while Majdoleen passes through the Allenby Bridge on the border between Palestine and Jordan.
"We parted ways in Nablus and agreed to meet in Istanbul. But the bad surprise was when Mohammad arrived in Istanbul and couldn't find me. At that time, he knew that the Israeli security agencies had forbidden me to cross the border post, "said Majdoleen.
Israeli border security agencies did not clarify the reason for the travel ban against Majdoleen and told him to check with Israeli intelligence in Nablus.
"We planned to go back to Turkey, get married there and continue our work and our studies. I never thought that the two week period would be more than two years for me, "she said.
The couple's marriage and graduate plans have been frozen for more than two years.
As Majdoleen has a Palestinian ID card, she is not allowed to live in her husband's town, which was occupied in 1948, and if he wants to live with her in the West Bank, he will be deprived. many of its rights, including residence and health insurance. His identity card will also be confiscated.
"We had planned to get married in Turkey to avoid these complications and live a stable life in a house like other couples in the world, but the occupation prohibited me from traveling. It's an added challenge, "said Majdoleen.
The wedding date has been repeatedly postponed in hopes that Majdoleen could travel, but the Supreme Court has repeatedly rejected his travel requests over allegations that the Israeli secret service has secret files claiming that she is a dangerous person.
"I will never stop my struggle to regain my right to free movement. It is my right as a human and a journalist, "she said.
Mohammad and Majdoleen are an example of many Palestinian couples whose identity cards of different colors have led to a state of permanent instability.
In their life, green and blue are not normal colors. They reflect the policy of dispersion and differentiation pursued by the occupation against the Palestinians since the occupation of 1948. This was further complicated by the construction of the apartheid wall which isolated the West Bank geographically and socially from the cities occupied in 1948. .
After several attempts, they decided to get married in Palestine, but until today they cannot live a stable life in their house in Baqa al-Gharbiyye.
"Although it is not a humanitarian situation, we are trying to stay together in the face of the occupation. We survived with love, with the support of family and friends around us. We are always trying to find alternatives and to continue to defend our just cause, "said Majdoleen.
Majdoleen has worked in journalism for over 13 years and is also a human rights defender. As a result of her activities, she was exposed to numerous interrogations in the investigation centers of the Palestinian and Israeli security services.
"I am here in Palestine, and being denied access to Palestine is more difficult than being denied to leave it. I have a house, a right and a family in Baqa al-Gharbiyye, and I will continue to struggle until I have the right to a stable life with my husband in our house there, "he said. she declared.