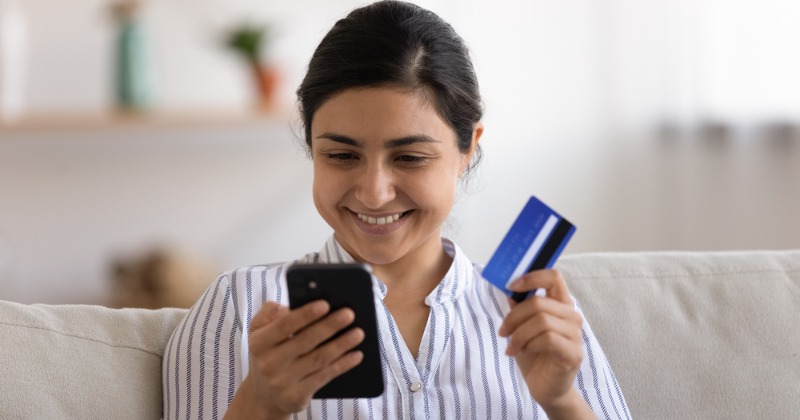 Why use the CRED app for credit card bill payments?
Credit card bills are nothing short of a headache for most of us, right? Especially if you have multiple credit cards, with varying billing cycles and due dates, right?
But what if there's an app that helps you keep track of it all? An app that not only reminds you of upcoming due dates, but also lets you instantly pay the bill on the spot, plus offers a plethora of other exclusive benefits.
Wondering what it is? This is the CRED app.
Remember the viral ad where cricketing legend Rahul Dravid becomes the angry 'Indiranagar Ka Gunda? Or where Indian Golden Javelin Neeraj Chopra shows off his acting skills? This was all part of CRED's ready-to-use advertisements.
Never seen this side of Rahul bhai 🤯🤣 pic.twitter.com/4W93p0Gk7m

— Virat Kohli (@imVkohli) April 9, 2021
This app works hard in every way so you don't have to! Eager to explore how this app helps you relax as a credit card user and unlock tons of perks? Read on as we unravel it all for you.
The Cred Club
CRED is a club reserved for members who rewards you for timely credit card bill payments by offering a wide range of exclusive offers and access to premium member experiences.
As a platform, Cred allows you as a credit card user to manage multiple cards in one place and make all their payments in one app.
But since this is a members-only club aimed at promoting and rewarding creditworthy individuals, those with a high credit score are generally eligible to become a member and gain access to exclusive rewards when paying their bills. credit card via the Cred application.
Besides allowing you to easily pay all your credit card bills under one roof and sending you timely reminders for the same, there are many unique features and benefits of in-app payments Cred. Let's dig a little deeper and understand them.
1. CRED RentPay and education fees
One of the benefits of the Cred app in its super feature of the CRED Max category is the payment of your tuition fees and monthly rent and that too instant payments available 24/7.
RentPay allows you to pay your monthly rent via your credit cards, directly from the CRED application. By paying rent on the CRED app via your credit card, you can enjoy a plethora of benefits such as interest-free credit periods, reward points on credit card loyalty programs, use your CRED coins to get discounts on your rent payment and more. Following!
And the recently launched feature of payment of tuition fees via Cred App, whether it's your tuition, tuition or school fees, you can get money back by paying it via Cred Coins!
Read also : 5 great financial resolutions for the New Year 2022
2. CRED payment
This feature is a new payment experience for CRED members, available on certain merchant platforms. It offers you a safe and pleasant stay one-click checkout experience using credit cards already registered with CRED. By using CRED Coins at checkout, you as a member can enjoy discounts on a range of products from a plethora of brands.
Also Read: Why Your Credit Score May Drop Despite Timely Payments!
3. CRED Protect
CRED is also equipped with the CRED protection feature, which is an AI-based system that keeps track of every nuance of your credit card payment journey. – as soon as due date reminders, spending habits, detection of hidden charges and other card usage statistics. Isn't that a great advantage! ? So why not join the Cred club and opt for CRED credit card bill payment, which will unlock many great benefits rather than just letting you pay the bill!
What about exclusive credit card bill payment rewards through CRED?
As a CRED member, you are not only able to receive timely reminders so you don't miss your credit card bill payments (which saves you from having to bear high financial costs of around 40% per year and late payment fees), but you are even rewarded for payouts, in the form of CRED coins. Then? You can use CRED Coins to claim exclusive rewards and other benefits.
These rewards include a wide range of benefits, such as discounts and special offers when shopping at partner merchants (including brands like Swiggy, Myntra, Zomato, Ajio, Amazon, BookMyShow, Tata Cliq, 1mg, Cult fit, Samsung, etc.) and selective goods/services in all categories such as food, grooming, electronics, shopping, wellness, etc., in addition to other benefits such as cash back, vouchers, etc. You can even play daily jackpots and win exciting prizes!
In addition, CRED sponsorship program offers you benefits like guaranteed cashback or selective products every time the sponsored people pay their credit card bill!
And that's not all. On your Cred dashboard, you can see your smart statement containing your expenses, refunds and cash back, payment history, card offers, etc.
Along with all these great features, CRED also gives you the benefit of tracking and improving your credit score through the app. Remember that building up and maintaining a high credit score is one of the main benefits of paying credit card bills on time, besides of course saving yourself the hefty applicable charges.
You can also check out the other exciting products under CRED, such as CRED Cash (for loans) and CRED Mint (for investments).
Read also : Why it's important for millennials to check their credit report every month
How do I apply for CRED membership?
Read also : Stop these 5 daily financial habits that are hurting your credit score
Since CRED is a members-only platform, you can apply for membership by registering with your full name and a valid Indian mobile number on the app. Once your credit score is verified by credit bureaus like CIBIL, Experian, and CRIF, and your score matches CRED's accepted eligibility criteria, you will be accepted as a CRED member. And once you become a member, you will be able to access the curated set of exclusive rewards and privileges offered by CRED!
Cred's latest campaign
On the occasion of New Year 2022, CRED had announced a special campaign to provide 5 lakh worth of meals to vulnerable children. Cred members can contribute using their CRED coins.
CRED members start 2022 by making a difference.

If you're not on CRED yet, reply to this tweet with #CREDTweetForGood and we will contribute on your behalf to @SOSVillageINDIA. pic.twitter.com/CRRFcfiTEm

— CRED (@CRED_club) January 1, 2022
Want to become a member of the CRED Club? Click here to download CRED and unlock a plethora of exclusive offers, rewards, cashback, and more. by making credit card payments, in addition to receiving payment reminders, credit checks, detecting hidden fees or charges and participating in fun games that give you chances to win exciting gifts!
And don't forget to consult the CRED to your friends and family!
For more interesting financial content and the latest news, Click here.